Welcome at Wunsch Immobilien – Properties at the Costa Blanca since 1998
Our team with more than 19 years of experience in the real estate at the Costa Blanca North and South provides you with extensive advice in a pleasant atmosphere regarding everything concerning your planned purchase of real estate at the Costa Blanca.
In collaboration with prestigious law firms, notaries, banks and registry offices, we guarantee a safe and reliable transaction.

All our offers are free of commission for buyers.
Selection of our latest offers at the Costa Blanca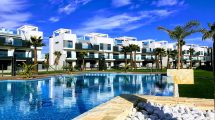 Selection of our latest offers at the Costa Blanca